Welcome at Kennel Sváva's!
You can find information on our breeds, US, pictures and of course a lot of information on our own 5 dogs, one P/S standard schnauzer male, 3 Black miniatureschnauzers, a female, her halfbrother, her daugther, and last but not least - our Welsh Terrier lady of the house. Their result in Obedience, Agility, tracking, show and much more.
We're members of:


DAnish Kennel Cluk



Danish miniatureschnauzer club



Danish Terrier Club


Dansk Schweisshunde forening.
- for jægere, hundeejere og andre med interesse.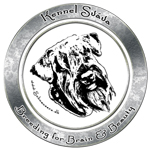 We're still working on the english version of our web, so there will be some missing links and not translated parts, for some time to come. We hope you will enjoy the web anyway!
We would like a greeting in our
guestbook
, we love to recive little postings so please, go by!